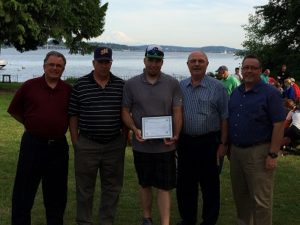 Recently it was our honor to be able to attend the year end baseball banquet for Roosevelt High School in a very nice setting at a park on the shores of Lake Washington with Mt Rainier as the backdrop with parents, coaches, and ballplayers as they were using this time to celebrate another great year of Roosevelt Roughrider baseball.
I was joined by Hank Margeson (President), Mark Clough, and 2014 HSVCOY recipient and proud dad, Wyatt Tonkin. We were met by James Simone, parent rep at the Windermere Beach
As we walked across the field, everybody was thoroughly engrossed in their food and no one fortunately even noticed me. It was at this point that James Simone introduced me and I stepped to the forward and introduced myself. It was a beautiful evening and quite the setting overlooking Lake Washington across to Mt Rainier.
I only spoke for a couple of minutes letting the ballplayers, coaches, and parents know what this award is and what it means to us. I spoke of extension of the classroom, honor, integrity, as well as a very positive attitude towards his players.
I kind of went back a little in history reminding them of our great past recipient HSVCOY's had been. Of significant importantance was history being made by now having a father and son as recipients and pointed out Wyatt Tonkin (Shorewood Varsity Head Coach and 2014 HSVCOY). I then announced our recipient for this years prestigious award for the 2016 High School Varsity Coach of the Year as their coach, Shea Tonkin.
One of the things that has been the mainstay of this award is the secrecy for not only the recipient but their reaction as well as all the past award recipients. This year was no exception as Coach Shea Tonkin was obviously moved to being speechless.
After Coach Shea Tonkin was finally able to regain his composure, he thanked our association for this award, and most importantly thanking his kids for without them none of this would be possible. He loves the game, the students, and yes, even the umpires. Please, next time you see him, let him know how proud we are to share the field with him.
Thank you all for your participation and desire to make this program succeed. Without you we wouldn't have any High School Varsity Coach of the Year recognition.
By Jay Neff
Member Services Committee